Published on Tue, January 13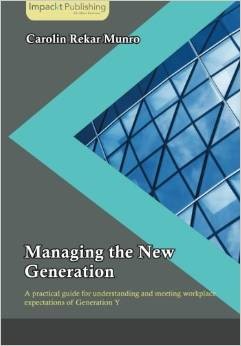 Generation Y? Millennials? The Net Generation?
I'm thrilled to announce the publication of my latest book: How to Manage the New Generation: Understanding and Meeting the Working Expectations of Generation Y!!!
This book is dedicated to new, experienced, and soon-to-be organizational leaders that are searching for more effective ways to work with GenY's in our workplaces. It is a roadmap that helps you navigate through the terrain of attracting, engaging, and retaining Gen Y talent in your organization en route to establishing a high performing and productive workforce which positions your organization for competitive advantage. We'll tackle how to enhance your use of social media for talent acquisition, communicate with GenY more effectively, job enrichment that is a better fit for them and for you, incentives that give your organization the competitive angle in motivating Gen Y, and mentoring Gen Y on their career development journey and in developing the talent needed so that you have the right staff, with the right skills, in the right roles for your organization's future.  As well, I've included a bonus chapter on bridging generational differences in the workplace and fostering a cohesive and cooperative workplace that contributes to sustainable organizational effectiveness.
Offered are practical, concrete (and sometimes unconventional) tools, techniques, and practices that you can apply immediately.  The proposed pathways are based on first-hand experiences collaborating with organizational leaders, like yourselves, and members of the Gen Y community to unearth root-cause challenges and to chart proactive solution strategies. You'll hear directly from GenYs around the world who have been interviewed for the book.
And the book is only the beginning!  You are invited to my website (www.eyeofthetigerconsulting.ca) to dialogue with me and other readers about your experiences working with GenY.  We'll use the space to post our stories, questions, concerns, resources, and offer feedback and suggestions to each other.
An electronic copy or hard copy of the book can be purchased through Amazon.
Looking forward to seeing you online!